We saw in the first article how the current events impact the economical balance of animal feeds and the first strategy – how to reduce the feed costs (4 options, more or less of interest according to each option) and how to push feed efficiency.
To face the increase of costs, another strategy is possible: to increase the income by improving the feed efficiency (produce more with the same). Let's have a look at it in this article.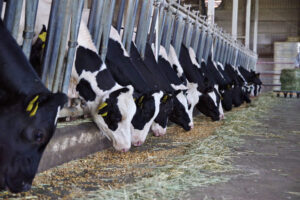 Increasing the income by improving the feed efficiency
High prices for livestock products are a great market opportunity. Increasing production in numbers is not always feasible quickly: classified facilities, long cycles, or even depopulation of breeding stock for health reasons. It is clear that the number of animals to be marketed will remain limited. To produce more and answer the consumers' needs, the productivity levers have to be pushed a little harder:
– Larger animals
– Higher milk or egg production per animal
And this is still possible.
How to push the feed efficiency
Plant-derived growth promoters such as Oleobiotec have been developed for this purpose. It is an excellent candidate to help farmers and feed manufacturers meet the challenge of improving even more the feed efficiency. We will not go back to antibiotics in the feed, but we must continue to find performance in our animals. The survival and economical sustainability of many farms depend on it.
As we have seen, there are many strategies, but all of them carry risks. Fortunately, there are solutions for each of them.
The key levers
What is important to keep in mind is that:
– The selling prices of livestock products are particularly high at the moment
– It is therefore time to push the productivity levers to make the most of investments in feed
– The animal's ability to adapt remains the key to these latest productivity gains
– When choosing your additives, you must therefore think about additives that address directly the animals, sensory additives to which they are sensitive.
This increase in raw materials has turned the animal feed industry upside down, but as we have seen, many solutions exist. If improving the feed efficiency seems more obvious than reducing the feed costs, everyone can still find a solution and adapt. It is important to quickly put in place a strategy to fight against the rise in raw materials, as it is likely to spread over time and to last.